Andamiro warrants to the original purchaser that all of its products will be free from defects in material and workmanship.
Andamiro warrants the parts from date of shipment as follows.
-One Year Limited Warranty : Electronic Boards
-6 Months Limited Warranty : Moving Parts
For any key components within the warranty period, Andamiro will repair or replace defective components free of charge.
When placing a warranty request, the customer is requested to furnish the following information:
1. Name of the game.
2. Serial Number of the game.
3. A Detailed Description of the defect/s experienced.
This warranty does not apply to the defects caused due to misuse or abuse of the product.
Any alterations made to game or game parts will void this warranty.
For warranty details on our product range please visit our website, www.andamiro.com.
ANDAMIRO CO., LTD.
www.andamiro.com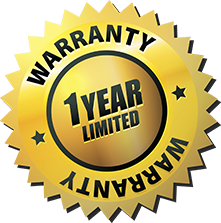 TOP